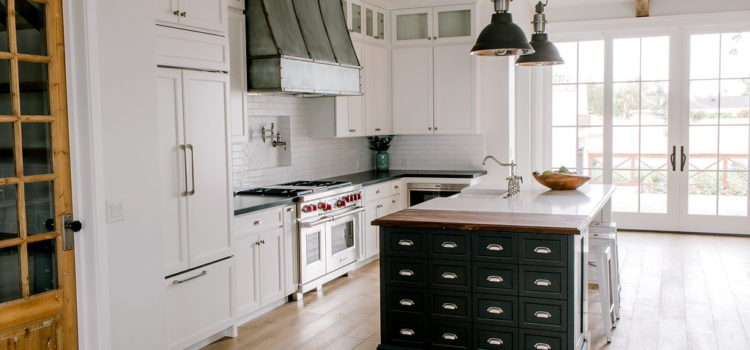 Site walks… yes, one of my favorites. For those that tune in, I try and Instagram story some of my Monday morning site walks. You may have seen them, yes. If you haven't, your life has a huge gaping hole in it that can only be repaired by tuning in. It's a fact. Ok, I am being dramatic. Just a little bit. But, in all honesty – I am a firm believer in site walks. While I try and photograph and film one each week, it's the countless other site walks – performed by myself or our talented team members – that go undocumented but make up the bigger picture of careful planning, precise execution, and enough communication to choke a medium sized farm animal. Ok, I am being dramatic again, but it's for the good point of painting a vivid picture in your head for just how much communication is needed in this industry. Architecture, interior design, and construction all have about a million details and moving parts between them. That's not being dramatic, that's the truth – even the details have details. Throw in landscape design and other lovelies like civil grading and drainage plans and it can get rather overwhelming. Each moving part is daisy chained to another moving part and creates a larger process that needs to be methodically walked through. See what I did there -"methodically walked through"… site walks… you see where I'm going with this.
Kitchen's are a place in a home that have a lot of details that all need to coordinate properly. Case in point: this custom black cabinetry piece anchoring the end of this island. What you may see is a hardware cabinet style piece at the end of the island. What we see is a trillion details that all needed to come together seamlessly.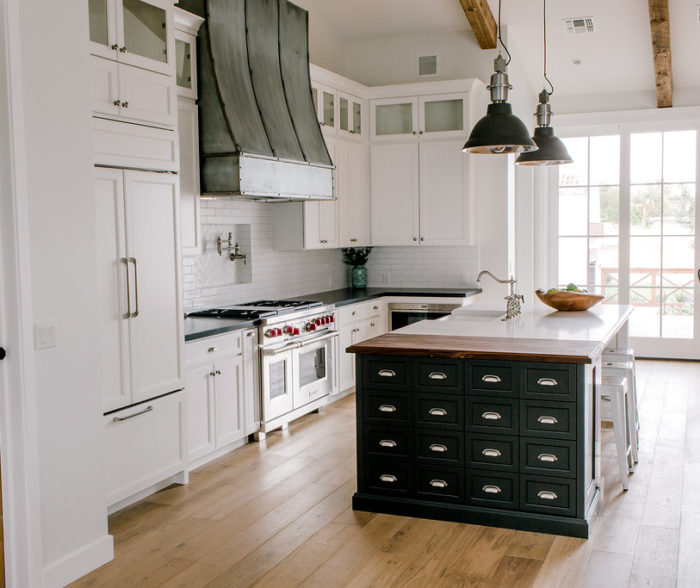 Now to divulge the details… we (Rafterhouse) handled the layout and installation of the white island cabinetry that you can just barely see in the photo above. It's about a 7′ run of base cabinetry. Next, the "end cap" was custom built and installed by a different company – Brothers Woodworks. Hurdle one: Two totally different lines of cabinetry needing to seam together perfectly… height, width, reveals, furniture base profile… you get the picture. Next, the "end cap" had a butcher block countertop – that we custom fabricated and installed. That top needed to seam perfectly to the Caesarstone slab that covered the other 2/3 of the island – and was templated, fabricated, and installed by another company. Hurdle two: Two different countertop fabricators and installers needing their work to seam together flawlessly – think: length, width, slab thickness… the whole bit. If that wasn't enough of a challenge, we wanted the wood butcher block top to have the exact same ogee edge detail as the Caesarstone top. Hurdle Three: Finding the right wood router bit with just the right profile to seam the butcher block and the stone top. In fact, the final little touches had to be hand sanded to get it just right.
Folks… The island above is simply one small example of all the coordinating details that go in to harmonious bond of home design and construction. Nothing happens by luck in the world of construction – other than flat tires from framing nails. Site walks are fun to photograph and share on social media but the bigger picture importance is that of tending to the process of careful planning and precise execution. Whether you're walking solo staring and pondering the details or walking with key members of your team discussing a critical point in construction – it's site walks that help get 'er done.
Enjoy your week and go walk some sites.
Austin